Welcome to SiFibe Internet!
We are excited to introduce a new internet service for Southern Illinois!
Compare SiFibe to DSL and Satellite
DSL has Weaknesses Example: Frontier, AT&T U-Verse.
Your current internet is probably coming from an old copper landline... the same ones that power landline phones dated back to the 1900's.

Copper performs worse over long distances.
The copper infrastructure connecting Southern Illinois is aging.
Fact: Frontier DSL uses these aging copper lines across long distances...
Have Satellite? HughesNet or Exede
If you have Satellite Internet, you will likely experience the following factors.
Satellite Internet is beamed into space (about 23,000 miles), then back to earth (another 23,000 miles), then to its destination, where it is processed and returned to you.
Due to high latency and the uplink delay, gaming is nearly impossible.
Many satellite services cap your data usage (10gb, etc). Keep in mind that streaming Netflix alone in High Definition can use up to 3 GBs/hour.
SiFibe Uses Over-The-Air Wireless Radio Signals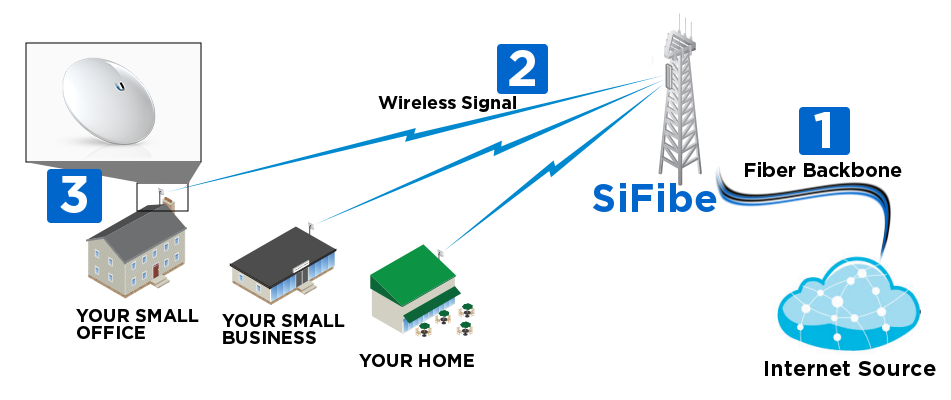 SiFibe's towers receive internet through Fiber Optic Cable.
Internet is broadcast from our tower using powerful radios.
Internet is accessed at your location using radios we install on your property.
Wireless Radio Frequencies travel effortlessly through the air.
We make sure signal levels are strong, before installing at your location.
Our radios are efficient, keeping latency(ping) low.
True Unlimited Data Use.