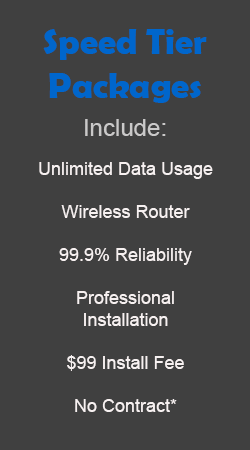 Tier 1
$39/Month
10 Mbps Down/2 Mbps Up
Medium Internet Usage
Streaming on 1-2 Devices
Gaming on 1 Device
Tier 2
$59/Month
15 Mbps Down/3 Mbps Up
Moderate Internet Usage
Streaming on 2-3 Devices
Gaming on 2 Devices
Tier 3
$79/Month
20 Mbps Down/4 Mbps Up
High Internet Usage
Streaming on 3+ Devices
Gaming on 2+ Devices
Tier 4
$99/Month
25 Mbps Down/5 Mbps Up
Heavy Internet Usage
Streaming on 4+ Devices
Gaming on 3+ Devices
Custom Data
$119/Month 
30 Mbps Down/6 Mbps Up
Custom Speed Plans
Starting @ $119/Month
Starts at 30mbps Download
[1] Plan supports Netflix Streaming in Standard Definition on 1 device. Netflix Stream may buffer if additional devices are connected.
[2] SiFibe does not offer credit card processing, businesses wishing to accept credit card payments will have to secure third party credit card processing equipment.
[3] Upload Speed may be increased on any speed tier in 5mbps increments for an additional $9/Month/5mbps increase.
**In all of the above package options all equipment installed remains the sole property of SiFibe. If you wish to own your own equipment please let us know before installation. **All packages require acceptance of SiFibe Terms of Service.